Buf Muduha
Toffee sweetness, citrus acidity, and a smooth body, with notes of orange, chocolate, honey and bergamot.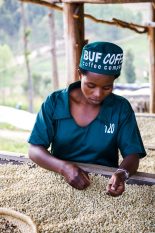 The word Muduha derives from the word umuduha (scientific name: vachellia sieberiana)—the name of a native African tree that grows in the region where this coffee was produced. This coffee is named 'Muduha' after the group of farming families who work together to produce it. The land on which they live and farm has 'umuduha' trees growing among their coffee trees. As a member of the legume family, the umuduha tree is important to the coffee farms, as it not only provides shade but it produces nitrogen in the soil, essential for the growth of healthy coffee trees.
There are 45 farmers that make up the Muduha farmer group. They collectively own one parcel of land, that they have worked and managed together since 2010.  The group meets regularly at the nearby Remera washing station (owned by Buf Coffee) to discuss their challenges and successes, and review how they can continue to improve their quality and yield. The chief farmer of the group is 56-year-old Faustin Munyaneza, a lifelong coffee farmer who now owns 3,000 of his own coffee trees. He is supported by Stephanie Nambazisa who is the Vice President, and Jean Baptist, who is the groups Auditor.
It is really special to have coffee traceable to a single farmer group in Rwanda. Typically we get traceability back to a washing station, but washing stations receive cherries from hundreds and often thousands of farmers who typically own very small plots of land (less than a quarter of a hectare in size), and own on average around 300 trees. Separation of such tiny lots is impossible (and not practical), and so typically most of the lots we source are separated by day pickings rather than a producer or producer group. Being able to purchase a lot that is traceable back to a single group of farmers is therefore very exciting; we are able to feed back directly to each of these producers and visit their farm (which we did for the first time this year). As a collective they are able to work together to improve the quality of their coffee, and as their scale is big enough, their coffee can be processed, scored and inventoried separately, ensuring more consistency and a better feedback loop.
The Muduha coffee has a distinctive flavour characteristic that is a product of the region in which it's grown. The area boasts a very high altitude (almost 2,000 metres), healthy soil full of acids and nitrogen, and a lower temperature than in other parts of Rwanda. A cooler climate slows down the coffee cherry maturation and, in turn, the harvest of the coffee cherries. Normally, coffee in Rwanda is harvested between March and May, but in the case of Muduha, cherries are harvested in June or July.
Being located close to the Remera washing station increases the quality of Muduha coffee, as the speed at which freshly picked cherries are processed is directly related to overall quality. The faster the coffee can be processed after picking, the better! Coffee from this farmer group has been recognised for quality in the Rwandan Cup of Excellence program on two occasions.
ABOUT REMERA WASHING STATION
The Remera washing station is managed by Elias Dusabeyezu, who has been manager at Remera since 2007. The warehouse is impeccably managed by Alex Dushimimana and quality is overseen by an inspirational woman called Angelique Muhawenimana, who started her career as a coffee sorter and now heads up quality control at both of Buf's washing stations. Together, they ensure that the coffee is harvested and processed with care and that production standards are kept at the highest possible level. Remera provides jobs for 60-80 people during the peak harvest and staffs seven permanent positions. At the end of each season, any surplus profits are shared with the producers and washing station managers.
ABOUT BUF COFFEE
Buf Coffee was founded in 2000 by Epiphanie Mukashyaka, a dynamic businesswoman and a source of inspiration to countless other female entrepreneurs in Rwanda's coffee sector and beyond. Buf is now managed by Mukashyaka—known to all as Epiphanie—and her sons, Samuel and Aloys, who have taken an active role in running and expanding the business. The name 'Buf' derives from 'Bufundu', the former name of the region in which its washing stations are located.
Epiphanie lost her husband, a child, and many extended family members in the horrific genocide in 1994. She was faced with the responsibility of caring for her seven surviving children and rebuilding their life. With a limited education and little money or support, Epiphanie, whose husband was a coffee farmer, decided to focus on coffee, and set about rebuilding and developing a business, and with it the local community. She started to learn more about speciality coffee with the assistance of the USAID-financed Partnership for Enhancing Agriculture in Rwanda through Linkages (PEARL) project, a transformational programme aimed at switching the focus of the Rwandan coffee sector from an historic emphasis on quantity to one of quality—and so opening up Rwanda to the far higher-earning specialty coffee market. The programme and its successor, Sustaining Partnerships to enhance Rural Enterprise and Agribusiness Development (SPREAD), have been invaluable in helping Rwanda's small-scale coffee farmers rebuild their production in the wake of the genocide, and the world coffee crash, of the 1990s.
Epiphanie went on to establish Buf Coffee, and decided to build a washing station, with the help of the PEARL programme and a loan from the Rwandan Development Bank. 'I came up with the idea to build this,' she says, 'and nothing was going to stop me'. She established Remera Washing Station in 2003 and Nyarusiza in 2005, and was the first woman in Rwanda to hold a privately owned company and produce specialty coffee. Her aim with the washing stations was to improve the quality of coffee by shifting the focus from producing commercial coffee to producing high quality specialty coffee. In doing so, she aimed to add value to her processed coffee in order to secure higher and more stable prices for coffee farmers in the region. As a result, she not only improved the livelihood of her family, but also improved those of her neighbour farmers and wider community, directly by increasing their income (through higher prices paid for their cherry) and, indirectly, by bringing important services like safe water and electricity to their villages via the establishment of washing stations.
Today Buf Coffee buys coffee cherries from as many as 7,000 smallholder farmers, including five different local cooperatives. Buf has very strong links with the local communities that supply it, providing jobs for hundreds of locals during peak harvest (May–June/July) and ten permanent positions year-round.
The majority of the small farmers that supply Buf Coffee in the area have an average of only 300 coffee trees each (less than a quarter of a hectare), and also use their land to cultivate crops like maize and beans to feed themselves and their families. Most of their income from the sale of coffee is used to send their children to school, pay for medical care, and for investment in livestock such as purchasing a cow for milk, which is then used at home and for sale locally.
Buf Coffee's exceptional quality has been recognised year after year. It was awarded a prize in the 2007 Golden Cup; and placed in the Cup of Excellence in 2008, 2010, 2011, 2013, and 2014.
HOW COFFEE IS PROCESSED AT REMERA WASHING STATION
The ripe cherries are picked by hand and then delivered to the washing station (usually by foot, and sometimes by car), where it is marked with the Muduha farmer group name and the picking date. Each day lot from Muduha is processed separately from other lots delivered to the washing station.
Before being pulped, the cherries are deposited into flotation tanks, where a net is used to skim off the floaters (less dense, lower grade cherries). The heavier cherries are then pulped the same day using a mechanical pulper that divides the beans into three grades by weight.
The beans (in parchment) are then dry-fermented (in a tank with no added water) overnight for 8–12 hours. They are then sorted again using grading channels; water is sent through the channels and the lighter (i.e. lower grade) beans are washed to the bottom, while the heavier cherries remain at the top of the channel.
The wet parchment is then soaked in water for around 24 hours, before being moved to pre-drying beds where they are intensively sorted for around six hours. This step is always done whilst the beans are still damp because the green (unripe) beans are easier to see. It is also always done in the shade to protect the beans from direct sunlight (which they have found helps to keep the parchment intact and therefore protects the bean better).
The sorted beans are finally moved onto African drying beds in the direct sun to dry slowly over 10–20 days. During this time the coffee is sorted carefully for defects, and turned regularly to ensure the coffee dried evenly. It is also covered in the middle of the day when the sun is at its hottest.
Once at 11–12% humidity, the coffee (still in its parchment) is stored in the washing station's warehouse, in carefully labelled lots, until it is ready for export. The coffee is then sent to Buf's brand new Dry Mill, Ubumwe (built in 2017), to be dry-milled. Here the parchment is removed, and the beans are sorted again by hand and using machinery to remove any physical defects. This is done under the watchful eye of Edouine Mugisha, who has worked with Buf since 2011. Having control over the milling of the coffee means that Buf has greater control over the quality of sorting and processing from cherry delivery right through to export – a very exciting development indeed!
We have been working with Buf Coffee since 2009, and we feel privileged to work with such a dynamic, passionate, and committed community in Rwanda. We hope you enjoy this beautiful coffee.