Airumá
A well structured coffee, with a refined stone fruit acidity, creamy mouthfeel and notes of apricot, dark chocolate, honey and papaya.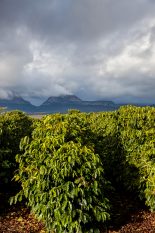 Airumá comes from Fazenda Progresso, a beautiful farm nestled in the Chapada Diamatina mountain range in the heart of Bahia. The farm is surrounded by the Chapada Diamantina National Park, known for its mountainous cliff formations (Chapada) and 19th century diamond mining (Diamantina).
This lot is selected from a plot of the land called Airumá named after the incredibly clear night skies that are filled with stars (the best we have ever seen). Coffee on this plot is intercropped with trees that provide shade, and is irrigated with a drip irrigation system.
ABOUT FAZENDSA PROGRESSO
The history of Fazenda Progresso dates back to 1984, when the Borré family migrated from Southern Brazil to the northeast and purchased some land in the municipality of Ibicoara, near the town of Mucugê. In the early years, the family tried growing crops such as soybeans, wheat, and English potatoes. The potatoes turned out to be an incredibly successful crop, stimulating investments and making the family one of the largest producers of potatoes in Brazil!
In 2005, the Borré family sought to diversify the activities on their land, and so they began to focus on coffee. They recognised they had the ideal conditions to produce exceptional coffee with high altitudes, plentiful rainfall and rich soil. Fabiano Borre spearheaded the coffee program, investing in state-of-the-art equipment and infrastructure to ensure they could produce the very highest quality coffee possible and control the quality from picking right through to export. Fabiano also surrounded himself with an exceptional team and sought advice from some of the most respected professionals in the field, including Silvio Leite, founder of the Cup of Excellence and president of the Brazil Specialty Association, with 30 years' experience in coffee grading, tasting, and quality control.
Fazenda Progresso's infrastructure is meticulously designed and well cared for, and over the last decade Fabiano has continued to invest in equipment and processes that will improve the quality of his coffee. He has a robust quality control program and dedicated quality control lab with a talented cupping team headed up by Ednaldo Nascimento (AKA 'Gandula'—nicknamed after the boy that replaces the ball during a soccer match)!
The Borrés are very hands-on in their approach to managing the farm. They are extremely professional in the way they conduct their business, and they take great care to create an excellent work environment for their staff. Throughout the year, there are around 200 permanent staff members on the farm, and this number grows to 650 during the harvest. Many of these harvest workers return every year, and all are provided with daily bus transportation, uniforms, safety gear and food.
In total, 700 hectares of the property are dedicated to coffee; this land is divided up into different plots, which are processed separately. Fabiano closely monitors environmental data  (rainfall, nutrition, temperature) from each of the plots to identify which parts of the farm have the highest quality potential, and deploys his best pickers to these parts of the farm to select the very ripest cherries by hand.
HOW THIS COFFEE WAS PROCESSED
The Borré family's commitment to quality is evident when ever we visit and see the investment and care that goes into processing the coffee.  They produce both natural and pulped natural coffees, and Fabiano is continuously experimenting and looking for ways to improve the quality in the cup. This curiosity and continuous drive to do this better makes working with and buying coffee from Progresso super exciting, and we are continuosly blown away with the improvements and new heights of potential that this farm is delivering.
This coffee was carefully hand-picked by a specially trained team in August. It was then processed via the pulped natural method: the cherry's skin and fruit were removed and the sticky, parchment-covered beans were left to dry on cement patios and carefully raked at least 20 times over a 24-hour period. This ensured that the coffee dried evenly and consistently. After this, the coffee was very slowly and thoroughly dried in mechanical dryers for 18 hours and then rested for 6 hours. This process was repeated over and over until the coffee reached 12% humidity. Progresso have done a lot of experimentation with drying and have found that this method yields the very best results and ensures that the coffee holds it quality over an extended period of time.
THE BORRÉ FAMILY
The Borré family business has always been managed and directed by family members and is now in its third generation of operation. Fabiano Borré looks after everything to do with the coffee side of the business. He is young, focused and forward thinking, and very motivated to produce the very best coffee he can. You can read an interview with Fabiano Borré here.
The Borré family takes great care to protect and preserve the ecological health of their area. Water is conserved and meteorological stations are positioned throughout the farm to optimise irrigation and ensure the trees get the right amount of water. Cascara pulp from processing is composted (along with potato wastage, which is very high in potassium and great for coffee trees!) and used to fertilise trees throughout the plantation.
In 2015, for the first time, the Borré family entered their coffee into the Cup of Excellence competition. It placed 15th—a fantastic achievement and testament to the hard work, resources, and focus that have been put into producing exceptional coffee. It also placed 20th in the 2017 Cup of Excellence.
When Progresso was first founded, it was given its name 'Progresso' which tranlates quite literally to 'Progress' in English. This name reflects the family's concept and philosophy of business – which has been held and passed down across generations and is still very relevant to the family's ethos, business culture and drive today. It portrays their boundless energy, their entrepreneurial spirit and drive, and their unwavering commitment to quality and improvement in every working day. We feel very lucky to be working with Borré family, and look forward to sharing their coffees with you for many years to come!