Bella Vista
Orange blossom honey, red apple acidity and a buttery mouthfeel with dark chocolate, grilled pineapple and wild redcurrants.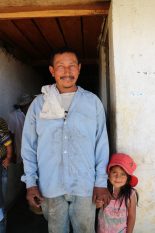 Ulpiano Rodriguez' farm, Bella Vista (Beautiful View) is located in the Nariño region, which is located in the southwest of Colombia, just above the equator and on the border with Ecuador. The region is strikingly mountainous and boasts no fewer than five volcanoes: Chiles, Cumbal, Azufral, Doña Juana, and Galeras.
Coffee in Nariño is grown at altitudes that reach 2,200 metres above sea level, making it some of highest grown coffee in the world. Typically it is very difficult to produce coffee at such high altitudes (as many plants suffer from 'die back') however Narino's proximity to the equatorial line and steep hills around the volcanoes provide a great angle for sun exposure, creating the right micro climate for coffee plants to thrive. The high altitude of cultivation allows for slow maturation and development of the coffee cherry, giving time for concentrated sugars to develop in the fruit and resulting in coffees that are lusciously floral, with intense candied sweetness and complex ripe fruit.
Ulpiano Rodriguez has a beautiful farm on Nariño's eastern edge, in the municipality of Buesaco. His small three-hectare plot reaches as high as coffee can be planted in the steep hills surrounding the town, at 2,170 metres above sea level.
The ride to Bella Vista (Beautiful View) involves a long, bumpy, and very steep ride in an old 1970's Land Cruiser, refitted with extra weight on the front in order to keep it stable. Wilson, the driver of this vehicle, will tell you stories gathered over the course of a lifetime of driving these roads, including the time he drove his car off the one of the ridges and miraculously survived. On another occasion, the FARC, the guerrilla group that occupied the area until about 10 years ago, forced him to play chauffeur to members of the group that were heading into town to rob a bank during one of their raids on the municipal centre. We aren't sure if he had to play getaway driver, as well.
Once one reaches the end of the road in the small town of Naranjal Alto, you have to hike another 30 minutes to reach Ulpiano's farm. The view is stunning, and Rodriguez' family will be warm and welcoming.
Ulpiano Rodriguez shares a life story with many other coffee producers working in the region. Though he is originally from Nariño, he was forced to find a way to earn and ensure his family's livelihood in the 90's. He moved everyone to the neighbouring state of Putumayo, which at the time was experiencing an economic bonanza due to burgeoning coca production. Rodriguez worked in Putumayo for several years as a coca picker (or 'raspachin' as they are called in Colombia), until he and his family were again forced to move after a new gang took control of the area. This meant that his family was forced to move back to Nariño during one of the most violent times in Colombia's history. Starting from scratch with what little he had been able to save, he built his farm from nothing, and now has 12,000 beautiful Caturra and Colombia trees over three hectares of prime coffee land. He sees specialty coffee production, finally, as a way of providing a sustainable income for his family.
Rodriguez has been supported along the way by his involvement with the association Buesaco con Altura (Buesaco with Altitude), a producer group focused on improving their quality of life by producing and selling coffee of the highest quality. Producer members have placed highly in Colombian Cup of Excellence competitions and continue to strive towards producing ever better coffee. You can see a sweet little video made by them here.
PROCESSING AT BELLA VISTA
Ulpiano farm is very typical of most farms in the region. It is small, but has its own self-sufficient wet-mill and patio for drying. After the red,  perfectly ripe cherries are picked, they are pulped by passing them through a manual pulper. The waste from this process will be used later as a natural fertilizer for the coffee trees. Depending on the conditions, the fermentation can range between 12 up to 48 hours. This particular lot was fermented for 24 hours, and then dried on the patios in the sun.