Jarama (Kivu Belt)
Complex, elegant and floral with a honey sweetness, smooth body and notes of grilled pineapple, vanilla, lime, and jelly candies.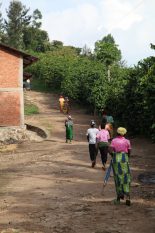 We are so excited to share this new and delicious coffee with you from the breathtaking and promising Nyamasheke region in Lake Kivu, which is located in the Western Province of Rwanda. The area is perfect for coffee cultivation, with some of the highest elevations in the country and nutrient-rich volcanic soil. It is known for producing unique coffees that are complex and delicate.
This coffee comes from a single farm called Jarama established in 2009 by owner Furaha Umwizeye. Umwizeye completed a Master's degree in economics from the University of Fribourg in Switzerland, and was motivated to return to Rwanda after the genocide and contribute in a positive way to the society and economy.
"From the beginning, our goal was to produce a coffee of high quality for the specialty market." Umwizeye explains. "To ensure the best quality, one has to have control of the production process. Traditionally in Rwanda, coffee washing stations and coffee farms are not vertically integrated. The ownership is separated. Coffee washing stations rely on multiple small coffee farmers for their supply of cherries [who typically only own 100–300 coffee trees]. We identified that to ensure the same high quality year after year, one has to be able to control how the coffee trees are being produced and harvested."
Today, Umwizeye has planted over 90,000 coffee trees across three farms (Jarama, Kamajumba, and Nyaruzina) next to the picturesque Lake Kivu, and has branded her coffees "Kivu Belt". Jamara sits at the highest elevation, at 1,798 metres above sea level, with 36,000 trees. The three Kivu Belt project farms have 18 permanent workers and 130 seasonal workers.
Umwizeye is constantly rewarded by her coffee farm project and seeing the direct impact the farms have on the region and its people. The coffee farms are very organised and well laid out, using the best sustainable agricultural practices to maximise yield and quality.
We first visited her farms in 2015, with our longtime friend and producing partner, Sam Muhirwa of Buf Coffee. We have been working with Muhirwa and his mother, Epiphanie, since 2009. Up until 2014, Buf Coffee's activities have been concentrated in the Southern Province of Rwanda, where Muhirwa's family owns two washing stations, Nyarusiza and Remera. Over the last couple of years, Muhirwa has been fostering new relationships with producers, providing them with advice and helping them to market their coffees. We are particularly excited about Buf Coffee's work in the Lake Kivu area, in Rwanda's West, as the coffees here historically have been quite difficult to access, and yet their potential for exceptional quality is among the highest in Rwanda.
HOW THIS COFFEE WAS PROCESSED
All of the coffee at Umwizeye's farms are carefully hand-picked and pulped on the same day using a mechanical pulper.
The beans (in parchment) are then dry-fermented (in a tank with no added water) overnight for 8–12 hours. They are then sorted again using grading channels; water is sent through the channels and the lighter (i.e. lower grade) beans are washed to the bottom, while the heavier cherries remain at the top of the channel.
The wet parchment is then soaked in water for around 24 hours before being moved to pre-drying beds where they are intensively sorted for around six hours. This step is always done whilst the beans are still damp because the green (unripe) beans are easier to see. It is also always done in the shade to protect the beans from direct sunlight (which they have found helps to keep the parchment intact and therefore protects the beans better).
The sorted beans are finally moved onto African beds in the direct sun to dry slowly over 10–20 days. During this time the coffee is sorted carefully for defects, and turned regularly to ensure the coffee dries evenly. It is also covered in the middle of the day when the sun is at its hottest.
Once at 11–12% humidity, the coffee (still in its parchment) is stored in the washing station's warehouse, in carefully labelled lots, until it is ready for export. The coffee is then sent to Rwanda's capital, Kigali to be dry-milled under the watchful eye of Sam Muhirwa and his team. Here the parchment is removed, and the beans are sorted again by hand and using machinery to remove any physical defects, and graded according to their screen size.