Guatemala Shipment Update
Published 30 November 2021
Our third and final container from Guatemala has recently landed, and the coffees are ready to sample! Despite spending several months in-transit, the line up is tasting sweet and distinct and will suit a number of applications.
⁠We've already started dispatching these special coffees around the country and we can't wait to taste them from our roasting community. There are several exceptional lots available and ready to be ordered! Read on for an overview of our offerings, and our most recent tasting notes and suggestions for use:
SANTA ISABEL ESTATE
Since 1875, the Valdéz family have been producing coffee on their beautiful farm, Santa Isabel, located in the rugged hills of Alta Verapaz, in the Cobán region. Five generations of accumulated knowledge and experience go into the production of Santa Isabel's coffees, and the result is outstanding. It's no surprise that Santa Isabel is one of our favourite Guatemalan lots year in, year out, given how rich, vibrant and clean it tastes in the cup. 
We love this coffee's winey character, which presents with abundant florals and a distinct, tropical acidity. This coffee will make a bright and juicy filter offering or a deeply sweet and complex espresso.
SANTA ISABEL 'LAS FLORES'
Our second lot from Santa Isabel is the passion project of Luis 'Wicho' Valdéz (pictured below, in Santa Isabel's drying sheds), who grew up on the farm and currently manages day-to-day operations. As the season progresses, Wicho cups through each of the day's pickings and selects the sweetest and most vibrant lots to go into this special selection. The result is an exceptional lot, which showcases the very best of the farm. 
Las Flores is intensely sweet, with blackcurrant and cherry acidity, brown sugar and a lingering floral finish. This outstanding coffee is sure to be a crowd pleaser, and will present well as either a filter offering or a single origin espresso.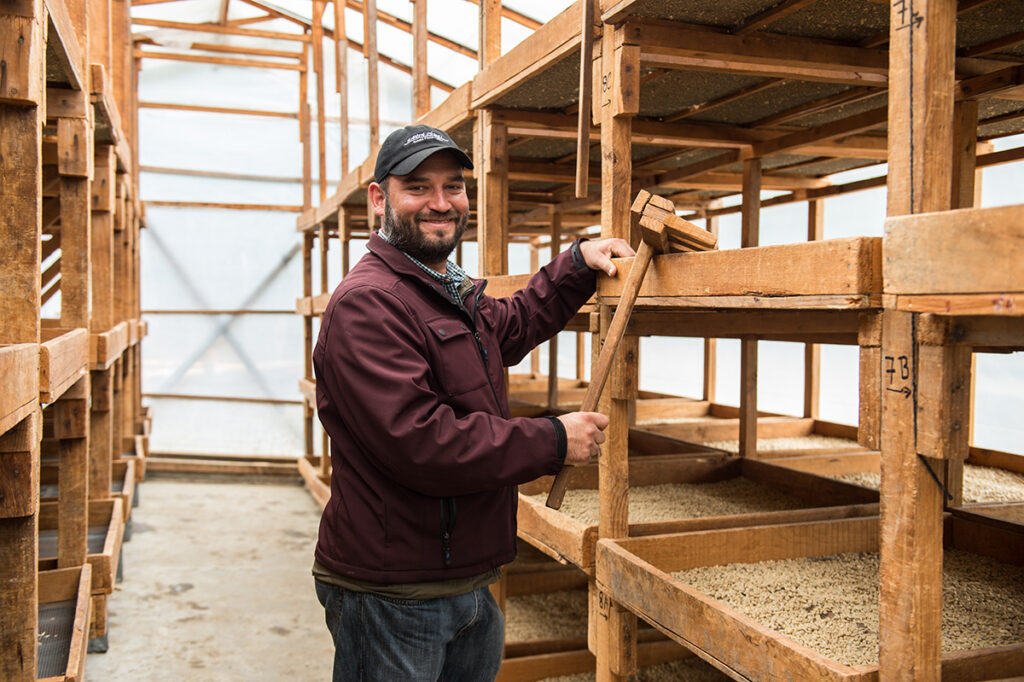 LA BELLA
Finca La Bella sits in the high hills of the Sierra da Las Minas mountain range, in Guatemala's eastern highlands. The farm's name was inspired by its extraordinarily beautiful surrounds, which include dense tropical flora, flowing rivers and cloud forests. The farm's owner, Teodoro Englehardt Ortega, has committed to only using farming and processing techniques that preserve and benefit this unique environment.
After several months in transit, La Bella has landed a little more muted than at offer stage – however, it is still presenting incredible sweetness and structure, with notes of apple, grapefruit and walnut. This coffee is well suited as a single origin espresso and will bring great depth and sweetness to a blend. To reflect the landed cup character, we have discounted this coffee – check out our offer list for more information!
SAN PATRICIO EL LIMON
This 100% Pacamara lot comes from the beautiful farm, San Patricio El Limon, located about an hour's drive east of Guatemala City in one of the country's newest coffee regions, Palencia. The farm has passed through three generations of the Aguilar family, who prioritise high quality production along with environmentally sustainable practices. Their stunning farm is managed with passion and energy by Guadalupe Alberto Reyes Aguilar, who is maximising the potential of this unique growing region.  
Pacamara lots are typically bright and floral, with great complexity and sweetness – and this coffee is no exception. Despite landing at a point or two lower than at offer stage, this coffee is bursting with jasmine and honey blossom fragrance, with juicy raspberry and cherry notes in the cup. We think it will make an outstanding filter offering or single origin espresso. To reflect the landed cup character, we have discounted this coffee – check out our offer list for more information!